The Surprising Truth About Aloe Vera
You've reached for aloe when you've spent too much time in the sun. You've seen it listed as a ingredient in many of your personal care products. It's always been there. Simple. Ordinary. Trusted.
There's a reason aloe vera gel is trusted in products you see every day. And that reason dates back thousands of years. The earliest civilizations revered this extraordinary botanical for its astonishing properties. Its legendary uses have been passed down through time, enhanced by scientific innovation and centuries of experience.
Let aloe surprise you as it:
* Cleanses and supports your digestive system
* Infuses you with energy
* Hydrates your skin
* Soothes and promotes skin renewal
* Supports your immune system
* And so much more
Forever Living Products offers you a complete line of nurturing products based on 100% pure aloe vera gel.  Harvested by hand from our own plantations and immediately stabilized for purity, our aloe enhances your body—inside and out—with products ranging from age-defying facial treatments to delicious, antioxidant rich drinks.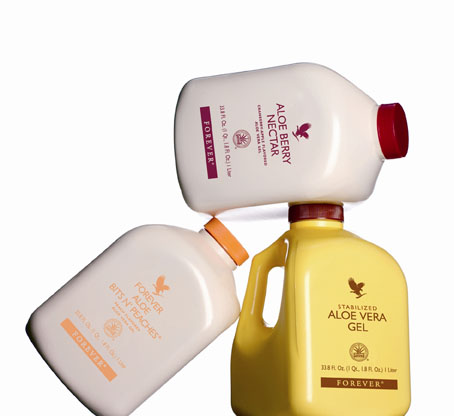 Nutritional Value:
Aloe vera consist as much as 75 nutrients, 20 minerals, 12 vitamins, 18 amino acids and 200 active enzymes. Aloe vera contains Vitamin A, B1, B2, B6 and B12, Vitamin C and E, folic acid and Niacin. Minerals found in aloe vera include copper, iron, sodium, calcium, zinc, potassium, chromium, magnesium and manganese. The nutrients naturally present in aloe vera makes it a potential herbal product that can be safely used both internally and externally. This exotic plant contains other beneficial compounds like polysaccharides, mannans, anthraquinones and lectins. The presence of these nutrients makes it possible to use aloe vera for variety of therapeutic purposes. Aloe vera not only cures the skin, health and hair problems, it so soothing that it also helps you to relax. Let's have a look at various aloe vera uses and benefits.
Health Benefits Of Aloe Vera: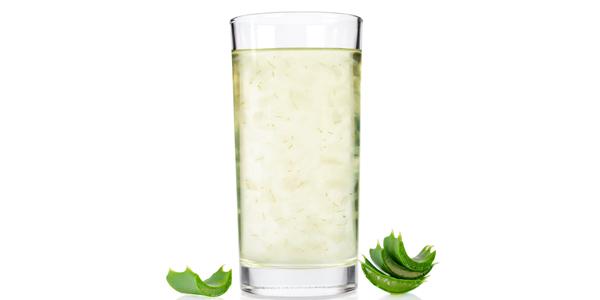 Aloe Vera is highly regarded as a miracle or wonder plant for its healing properties. You must have seen this ornamental plant in terrace gardens, but didn't realize its worth. The various healing properties make aloe vera a favourite choice among organic and fitness enthusiasts. This magical plant is used for the treatment of various kinds of diseases and illness. The health benefits of aloe vera include:
1. Aids Digestion and Treats Intestinal Issues:
Aloe vera when taken internally aids in digestion and effectively cleanses the digestive system. Aloe vera works as a laxative which makes it easier for the food particles to pass through the intestine. Thus aloe vera helps those who suffer severe constipation problems.Drinking aloe vera juice regularly helps to detoxify the body which in turns improves daily bowel movements. It alleviates acidity, inflammation and intestinal ulcers. Aloe vera has a soothing effect on the stomach walls and relieves stomach ache.Aloe vera also helps to cure Crohn's disease and peptic ulcers.
2. Boosts Immune Power:
Aloe Vera is full of antioxidants, also known as natural immunity enhancers, which help to fight free radicals in the body. Free radicals cause several diseases and ailments which speeds up the ageing process. Consuming aloe vera juice regularly boosts immune system and helps you to stay young and fit.
3. Treats Inflammation, Wounds and Burns:
Inflammation is the body's first reaction to damage. The damage can be caused by physical means or due to chemical reactions. Aloe vera has been used in traditional medicine and general home remedies in the recent times to cure cuts, wounds, burns, abrasions, inflammations and skin breakage.

Aloe vera contains plant steroids which help in reducing inflammation naturally. So aloe vera is used in orthodox or traditional medicine as steroidal drugs. Aloe vera also contains salicylic acid and its salts salicylates; it helps to curb inflammation by inhibiting the production of hormones like prostaglandins. Salicylic acid is like aspirin and has the potential of reducing inflammation by destroying the bacteria that cause inflammation.
You can use aloe vera to reduce inflammation without the fear of side effects. Drinking aloe vera juice regularly eases swollen and painful joints and reduces the stiffness of bones. It is excellent for treating scars, burns and cuts. It also soothes wound or cuts and fights bacteria that occur due to wounds. The cooling effect of the plant helps to regenerate new cells and helps in rebuilding the damaged tissue.
4. Good for Female Reproductive System:
Aloe vera tonic is wonderful for the female reproductive system. It helps to rejuvenate the uterus. It is very beneficial to drink aloe vera juice if you are experiencing painful menstrual cycle.
5. Treats Respiratory Disorders:
This versatile plant is also useful for treating respiratory disorders and is particularly useful for those who get frequent attacks of cold, flu, bronchitis herpes, running nose and other respiratory disorders.Aloe vera contains Vitamin C which helps to prevent colds, cough and flu.
6. Treats Diabetes:
The dried gel of aloe vera is used to treat diabetes as it helps to lower blood sugar level by decreasing insulin resistance and also lowers the triglyceride levels in the liver and plasma. Aloe vera helps to improve the blood quality naturally by decreasing the levels of cholesterol and triglyceride. Since, aloe vera helps to control cholesterol, triglycerides and blood sugar; it directly helps to prevent cardiovascular disease. Aloe vera keeps the blood fresh and rich in oxygen.
7. Stimulates Metabolism:
Aloe vera juice also increases energy level and helps to maintain a healthy body weight. Drinking aloe vera juice regularly stimulates the metabolism and helps the body to burn calories more quickly. So aloe vera keeps you slim naturally.
8. Oral and Dental Health:
Aloe vera juice also helps in maintaining healthy gums and oral hygiene. Its natural anti-bacterial and anti-microbial actions promote cell growth and healing. Aloe vera gels are also used in a variety of tooth gels which prevent bleeding gums and mouth ulcers. It also provides quick relief to people who experience burning mouth symptoms. Its antifungal properties help greatly in the problem of denture stomatitis, apthous ulcers, cracked and split corners of the mouth.

Skin Benefits Of Aloe Vera:
Getting an aloe vera plant proves to be helpful in more than one way. It is worth a try as a natural approach to ageless skin.  Aloe vera has several properties that are effective in treating a variety of skin conditions like flaky or dry skin, cosmetic ailments, and hair and scalp problems.
Due to its many uses and benefits to the skin and hair, aloe vera has now gained more popularity and has become a staple ingredient in many beauty and skin care products. In order to achieve proper skin restoration, aloe vera needs to be applied every day. Applying aloe vera gel soon after taking a shower is advisable as the skin is clean. Aloe vera benefits are surplus and given below are its skin benefits:
9. Heals Skin Issues:
The anti-allergic property of aloe vera is useful in the treatment of various skin diseases like eczema, psoriasis, itchy skin and so on. They are helpful in curing blisters, insect bites and other allergic reactions as well.  Aloe Vera face packs are a boon for people who have a sensitive skin type.

10. Offers Healthy Glow:
Drinking aloe vera juice supplies body with essential nutrients which help to produce and maintain healthy skin. Aloe vera helps to remove dead cells and replenishes it with new ones, giving the skin a radiant glow.
11. Treats Acne:
Aloe Vera's anti-inflammatory property helps to reduce acne greatly. It does not completely cure the acne; however, it reduces inflammation and redness of the skin to a great extent.  It also prevents the outburst of acne and pimples. Its juice or gel can be applied directly on the skin to cure acne. Aloe vera face pack can be prepared by boiling aloe vera leaves in water. Make a paste and add a few drops of honey. Apply it on the face. Leave it for 15 minutes and then rinse off with tap water.
12. Treats Sunburns & Reduces Stretch Marks:
Aloe vera gel contains two hormones, Axim and Gibberellins which have wound healing and anti-inflammatory properties. Aloe vera with its powerful healing capability helps to treat sun burn at the epithelial level of the skin. It acts as a protective shield for the skin and heals the skin quickly. It can also be used as an after shave treatment for its healing properties can treat small cuts caused by shaving. Aloe vera also helps to reduce stretch marks by healing the wounds. This is one of the best benefits of aloe vera for skin.
13. Improves Skin Firmness:
Aloe vera contains a plethora of anti-oxidants like beta carotene, vitamins C and E that improve the natural firmness of skin. Aloe vera helps to keep the skin hydrated and italso improves the skin's elasticity, therefore minimizing the appearance of fine lines and wrinkles. Thus it refreshes the skin and makes it vibrant and young looking. So for a young and healthy skin, start using aloe vera gel today.
14. Lightens Skin:
Smooth and glowing skin can be achieved easily by rubbing aloe vera gel on the face. Aloe vera lightens the skin and helps to alleviate sun tanning and hyper pigmentation.
15. Beneficial for Dry Skin:
Aloe vera gel is extremely beneficial for dry skin. Aloe vera is a natural moisturizer because of the moisture content locked in it. This gel keeps the skin hydrated and increases its elasticity. It also provides oxygen to the skin which strengthens the skin tissue and keeps the skin healthy. Moreover, it moisturizes the skin without making the skin greasy so it is perfect for oily skin. Once applied, it releases natural vitamins and enzymes on the skin to produce a deep moisturizing effect that helps to treat and restore its pH balance.
16. Lip Care:
Don't need to go for store bought lip balms all the time. You can prepare your own lip balm at home with aloe vera gel in seconds. This is a super easy process that can be even done by the kids. All you need to do is to heat a heaped teaspoon of petroleum jelly in a double boiler. After it melts, add half a teaspoon of fresh aloe vera gel and two drops of Vitamin E oil extracted from the capsule. Switch off the stove and blend this mixture well. Pour it in a tube or an old lip balm container when it is in the liquid state. Allow this lip balm to cool and thicken in refrigerator and start using it on your lips. This will cure dry and chapped lips very effectively than any other store bought lip balms.
Hair Benefits Of Aloe Vera: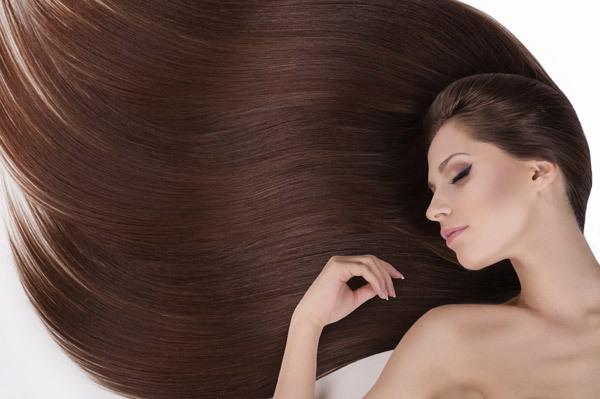 18. Treats Hair Loss:
Aloe vera for hair loss treatment can be traced back to the ancient Egyptian times. Aloe vera contains enzymes that promote hair growth. The proteolitic enzymes found in aloe vera help to eradicate dead skin cells on the scalp. Aloe Vera's keratolic action breaks down the sebum and dead scalp cells. Aloe Vera's alkalizing properties balances the pH level of the scalp and hair which results in further hair growth and retains moisture in the scalp.
19. Treats Itchy and Inflamed Skin:
Aloe vera also helps to eliminate itchy scalp and scalp dryness by its anti-pruritic properties. It also alleviates pruritic ailments like psoriasis and eczema of scalp. Aloe Vera's enzymatic properties enable it to destroy excessive dead skin cells of the scalp. It helps to reduce the redness, scaling, itching and inflammation of scalp which directly benefits the hair.
20. Treats Dandruff:
Aloe vera is also used in dandruff treatment. The natural enzymes found in aloe vera soothe and moisturize the scalp that helps to eliminate the scalp dryness that causes dandruff. Thus its anti-fungal properties alleviate dandruff problem.  It alleviates the dry and itchy feeling that accompanies dandruff and oiliness. Aloe vera brings a refreshing and cooling sensation to the scalp.
21. Good Conditioner:
Aloe vera is a great conditioning agent that restores the hair's shine and luster, and leaves the hair silky and smooth. The gel like substance found in aloe vera leaves is similar to keratin in chemical composition. This enables it to penetrate easily along the scalp. The scalp absorbs the benefits of aloe vera up to 7 layers deep and provides deep conditioning to the scalp. The amino acids present in aloe vera add strength and luster to the hair. It also enhances the beauty and suppleness of the hair. It control frizzy hair and does not leave behind any greasy build up.
22. Restores Hair's Strength and Beauty:
The essential nutrients and vitamins found in aloe vera makes it an indispensible material for shampoos and conditioner. These vitamins and minerals aid in restoring hair's strength and beauty. When combined with oils like coconut and jojoba oil, aloe vera can make a revitalizing shampoo.
23. Perfect Hair Rinse:
Aloe vera gel is a perfect rinse for oily hair without making the hair brittle.  Mix one part of aloe vera juice with two parts of lemon juice and apply the mixture to the shaft of hair. The acid from lemon strips away excess oil without any adverse effect of chemicals and aloe vera juice prevents dryness of the hair.
24. Repairs Dry and Damaged Hair:
Aloe vera gel also repairs dry and damaged hair in a short span of time. Aloe vera contains a good amount of protein which is necessary for maintaining the good health of the hair. By going through the hair shaft, aloe gel cures each strand restoring the natural beauty of the hair. In addition, it reinforces the outer layer of the hair which gives you a more manageable crown of glory. It softens, fortifies and rejuvenates by flushing out the dirt particles and bacteria from the scalp. A clean scalp helps to promote hair growth.
25. Treats Alopecia:
Alopecia or male pattern baldness is a common hair problem faced by men. This is a kind of hair loss that occurs at a particular part of the head or leads to full hair loss. This scalp condition can be reduced by regular usage of aloe vera. This is mainly because it rejuvenates the hair follicles and helps to reduce hair fall.
Aloe Vera is respected for its potential healing properties by those who believe in naturopathy. Aloe vera helps to prevent cancer by destroying any free radicals in the body that can lead to abnormal growth of cells or tumors in the body. Those who undergo regular radiopathy treatments can protect their body from the side effects of radiation by drinking aloe juice and applying aloe gel to the affected area to cure radiation burns. Aloe gel has a very soothing effect on the skin. It cures skin dermatitis, gives you voluminous hair and a fit body. So make aloe vera your daily companion to get a holistic health care at the comfort of your home. You don't need to rely on harsh chemicals when you have a natural option to stay fit and look glamorous always.
Hope now you are going to make aloe vera a part of your daily life. Get hold of an aloe vera plant today! And don't forget to leave your feedback in the comments below.
For More Info: Contact Me